Zotabox can only display the Messenger icon on your website. The chat window is 100% controlled by Facebook.
To have the chat box display on your website (instead of redirecting to a new Messenger tab), you MUST meet the following facebook conditions. If you still have issues after meeting ALL these conditions, you will need to contact Facebook for support.
WHITELIST your domain in your fanpage settings and save on the Zotabox setting page (and refresh your website). (Be sure to copy and paste your website domain from your browser window to your fanpage Whitelist settings. You need to have admin access to whitelist your domain on your fanpage).
Facebook chat will only work with fanpages or business pages (not personal facebook accounts).
Have absolutely NO restrictions in your fanpage settings (including age, country, messaging, tagging, languages etc.) Live chat will NOT work with ANY restrictions on your fanpage settings.
Your facebook fanpage must be PUBLISHED.
Facebook Live Chat will only work with secure websites. https:// (NOT  http://)
Disable any 'adblocker' extensions in your browser settings.
Refresh your website browser (ctrl F5) IF the live chat appeared on your site before.
In some cases, Facebook will block a whitelisted domain. We do not know the reason and can not override this. Please contact Facebook support directly to help you in this case.
(Our custom icon will open a New Messenger tab in this case).
WordPress users, if you have whitelisted your domain (by copying and pasting your domain url) and the icon still does not display, please embed our code manually using these easy instructions to avoid conflicts with custom themes.
A slow internet connection may cause the default chat icon to display slower or not at all. Please choose a custom icon to redirect to Messenger in this case.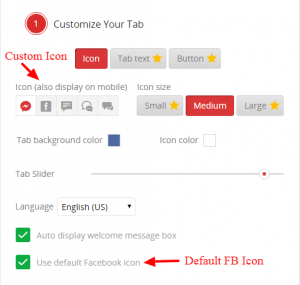 If you meet ALL of facebook's conditions, please contact Facebook support. Zotabox is unable to help you in this case. (99% of merchants who meet ALL of the above conditions can display the live chat on their website).
You maybe redirected to the Messenger app on mobile browsers IF you meet these conditions.